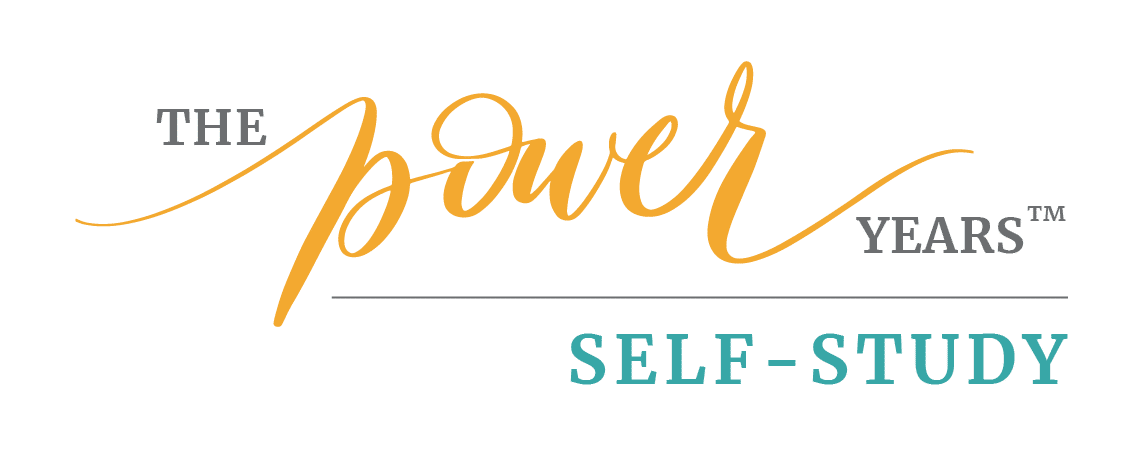 Six Week Self-Guided Reflection
Are you someone who has the time and interest in doing some midlife self-reflection without the ability or inclination to join the live experience?
The Power Years™ Self Study provides you with content that we use in the Power Years™ Women's Circle, allowing those who can't or don't want to join to access the material.
You'll love the Self-Study approach if:
want to help yourself get unstuck, reconnect with what you love, and remember/discover what's unique about you
want to redefine self-care so that it makes sense to you and isn't a prescription to follow
want to gain clarity on what's possible going forward
enjoy spending time doing self-discovery prompts and exercises, find it easy to motivate yourself to do this without external accountability, and are able to carve out time for yourself
want to get started right away!
The Power Years™ Self-Study is:
A six-week guided reflection
Each week you will receive an email setting the context for the week's topic and workbook of prompts and exercises.
We'll cover the following topics:
In week one, you'll dig into what's important to you and where in your life those things might be needing more attention so that you can feel more fulfilled.
The power of our thoughts and beliefs
In week two, you'll play around with noticing saboteur/inner critic voices and the beliefs that come out of those thoughts. Awareness of how you might sabotage yourself allows you to make decisions in line with your values rather than your fears.
The power of self-compassion
In week three, you'll connect with your inner wisdom and self-compassion. Practicing self-compassion this week will help you navigate stress and change with more resilience.
In week four, you'll pay attention to what energizes you, i.e., what relationships, activities, and environments are depleting and nourishing so that you can start creating boundaries and practices that feel good.
In week five, you'll take stock of the foundation you've already built and practice gratitude. You'll celebrate who you've been, and amplify the qualities you want to embody in the future.
The power of possibilities
In week six, you'll let yourself dream about the future and what is possible and who you want to be in the second half of life.
Frequently Asked Questions
"After completing the Power Years™ Self-Study course, I feel renewed. I now have a better sense of self and understanding and acceptance of where I have been and where I want to go. I see what I need to do to get where I want to go and the importance of placing myself at the centre of that journey. It helped me hear my inner voice, honour my values, and be really open to all that is possible. It helped open the door to further study — to being okay with looking deeper and being confident in what I am truly capable of. It really made me feel like I belonged to an awesome tribe — the middle years!! The best years ever.
I found the pace and length of the program fit perfectly for me — it was just enough to begin to dig in but not overwhelming and didn't lead to feeling like I had "failed" if I didn't complete it. I took the program when there was a lot of general overwhelm happening. It allowed me the time I needed to reflect on myself — to recharge and begin with a new perspective. It was truly the perfect program at the perfect time. Thank you, Sara!!!"
– Loo
The cost of the Power Years™ Self-Study program will be $199 CAD + tax (where applicable).
Power Years™ Self-Study Registration
Please fill in this form to register and pay for the Power Years™ Self-Study.
Share the Power Years™ Self-Study with a friend