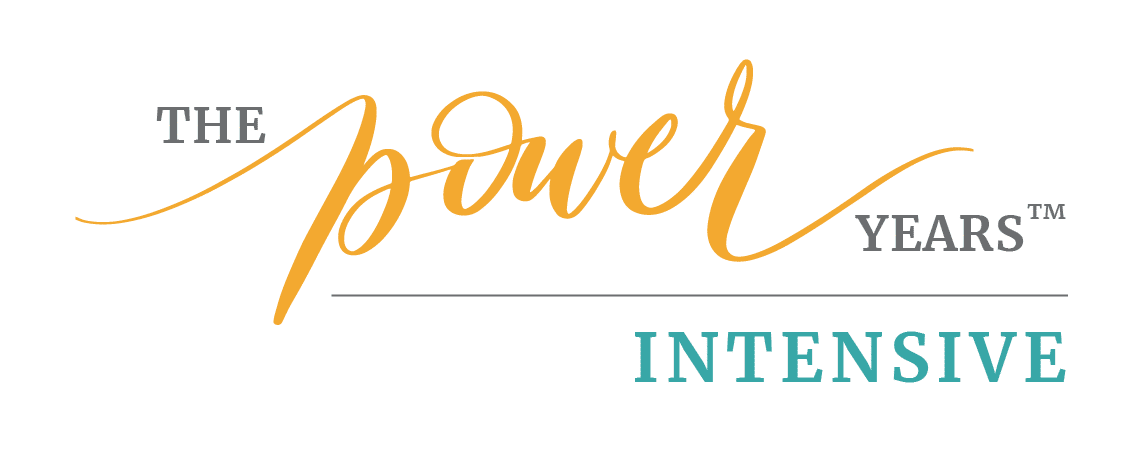 A five-week high impact coaching program to explore your Power Years™
Five sessions, five tools for more clarity, awareness, self-compassion, impact, and vision. This intense 5-week one-on-one program is for folks in midlife who have a deep desire to shift into a richer sense of purpose, possibility, and to explore what's next. This is a fantastic way to kickstart awareness and self-knowledge.
This option is for you if you:
You want tools to better understand yourself so that you can show up more consciously.

You desire bolstered self-awareness, self-compassion, self-knowledge, and resilience so that you can have healthier conversations and relationships.

You are ready to do some self-reflection and look at yourself in new ways.

You're asking yourself questions like, "what's next?", "what's important?", "who am I becoming?".
Intrigued? Here are the details of each week:
In week one, we'll uncover, rank, and rate your values so that you can see where you might want to focus your time and energy differently, now and in the future. Values are the starting point of my Power Years™ work; honouring your core values is essential for a fulfilled life.
Outcomes: 
Increased awareness of what is important to you
Increased sense of self
More fulfillment
More integrity
Increased self-knowledge
Contribution and success that is values-aligned
A lifelong guidance system
In week two, we'll learn about your key "saboteurs" or how you might be stopping yourself from fully engaging in what's most important to you. Saboteurs or inner critics are the not very supportive voices we all have in our heads that sap our power. They are universal and responsible for widespread thoughts and behaviour like judging ourselves and others, the imposter syndrome, perfectionism, controlling, procrastinating, and people-pleasing. Your saboteur thoughts are often behind old stories that have no place in the second half of life.
Outcomes: 
Increased self-awareness
A new ability to recognize saboteur thoughts and feelings and what triggers them and choose differently
Improved relationship with self and others
Taking 100% responsibility for thoughts and choices
What do I want to create?
In week three, we'll tap into your unique combination of self-acceptance and self-authority that provides a counterpoint to saboteur voices. Sometimes people speak about this as their "highest self" or "best self," other terms you may have heard are "leader within" or "inner leader." Whatever the name, this the wisest, most loving part of you, and this tool will help us access it. This session will help you understand more about who you want to be and what you want to do without the judgement of the saboteurs.
Outcomes: 
Unlocked internal GPS (think of it as having an internal WAZE app) resulting in clearer choices and fulfillment
Increased confidence
Less self-doubt
More authentic self-expression
Improved ability to make decisions
Increased self-compassion and self-worth
Increased energy
A method of mitigating inner criticism or saboteurs
In week four, we'll discover your unique fingerprint and impact on the world. What gets you out of bed in the morning? Together we'll draft a statement that gives you a starting point articulation of who you are in the world or who you are becoming.
Outcomes: 
An increased sense of purpose
Increased clarity
Improved self-knowledge
An understanding of how others see you
Increased understanding about what gets you out of bed in the morning
A compass you can use for decision making for the rest of your life.
In week five, we'll meet "future-you." This powerful session gives you access to wisdom and possibilities that you have not been able to see until now. This opportunity to meet your future self is one that my clients have described as "transformational" and "game-changing."
Outcomes: 
Increased optimism
More resilience
A clearer vision of what's possible
Increased awareness about who you are becoming
A more profound sense of purpose
All weekly calls are 60 minutes in length and I encourage you to not book yourself into anything else for 30 minutes after our sessions (in case they go over and to give yourself some space to absorb before moving on with your day).
This pace of the work in this program is brisk and intense but our sessions are unhurried and calm. If you don't want to dive right in and go deep it's not for you.
Frequently Asked Questions
All sessions are 90 minutes and delivered over Zoom using a secured — password protected Zoom room. Phone calls are also an option if that is preferred. 
I am happy to provide recordings of the Zoom sessions upon request.
Yes, when we begin working together, I will send you an intake form with questions to answer, agreements, and assumptions. Before our first session, you will need to provide the answers and a sign off on the agreements and assumptions.
There will be work for you to do between sessions to make the most of this intensive package. You will bring what you learned to each session. I am also available to you between sessions for encouragement, accountability, and support.
After going through the process above, many of my clients tell me they feel:
More confident, inspired, self-aware, energetic, clear, optimistic, and compassionate to themselves and others
Less self-doubt, self-sabotage, and self-criticism  
Less judgemental towards themselves, others, and circumstances
They can trust themselves and their choices in a new way
Able to show up differently in work and personal relationships
Increased awareness about who they are becoming
A more profound sense of purpose
"After years of putting everyone else ahead of myself (because I believed that is what a good mom and wife does), this program had me face some confronting questions.
I am filled with deep, deep gratitude for Sara's guidance as I take all the heavy, heavy coats of SHOULDS off my shoulders and relax in the joy that being me is more important. I have renewed strength, now overflowing to help my whole family deal with the pandemic and the uncertainty. I am no longer feeling like a victim in this moment, but the sage wife and mother able to give more to myself and my family.
This is a well-rounded program. Sara is a fantastic coach who really listens and can see your best-self. The wisdom I have gained from this coaching will undoubtedly be the core of my future planning and has given me treasures I will cherish for years to come. Be ready to work hard, see yourself anew, cherish everything more, and feel like you can dream again." 
– Stephanie K.
"Sara is awesome! Worth EVERY penny!! (And I am VERY frugal, so that is saying A LOT.)  I instantly felt like we'd been friends forever, and I could say anything, and she would never judge me. Sara saw clearly into the core of me in a way I don't think anyone else ever has. If you are considering signing up for the Power Years™ Intensive, do it. Don't think twice, you won't regret it. It changed my life."
– Jennifer Delaney
The cost of the Power Years™ Intensive is $2,500 CAD + HST (where applicable).
Ask me about payment plans.
What if I want to continue working with you?
Alumni of the Power Years™ Intensive can continue working with me on a more flexible basis. We'll decide together what kind of support you need when we get to the end of the program.
Get started with the Power Years™ Intensive
Fill out this form and tell me about yourself. From there we'll have a short call to make sure this is the right fit.
Share the Power Years™ Intensive with a friend